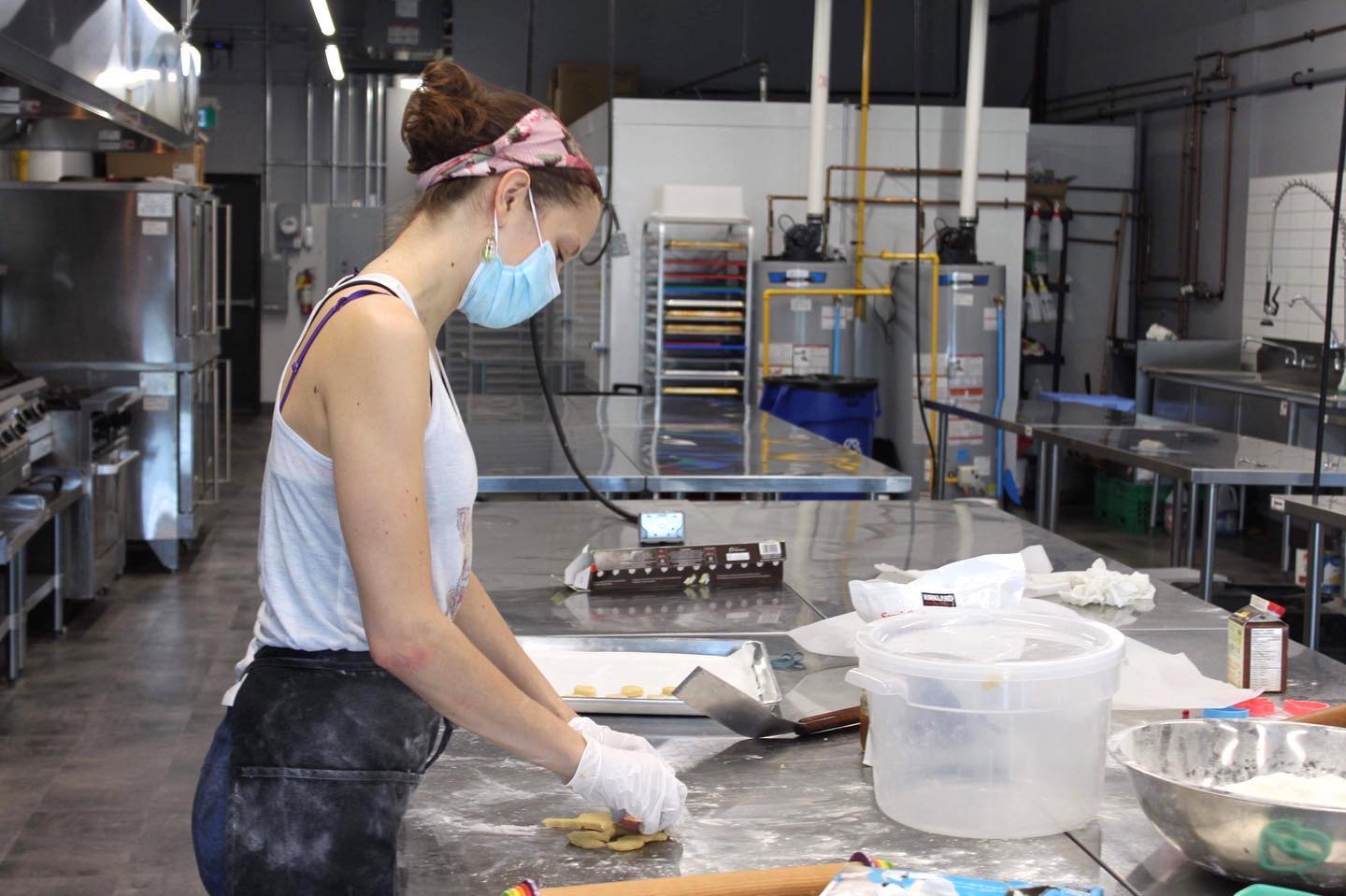 Welcome!
Hi there, my name is Christine! With my team of helpers, we aim to create one of a kind baked goods that are truly edible art. We specialize in sugar cookies, while also creating cakes, cupcakes and gingerbread houses.
We want to spread joy in the community, partially by tailoring our products to our clients' specific needs. Come and find us at a local market, purchase our products online or custom order from us. If you can dream it, we can make
it!
We are in Nepean (Ottawa), and bake for some uber local peeps in our neighborhood, as well as the greater Ottawa area.
Testimonials
David

I asked Christine at Compassionate Rabbit Baking for a Ghibli-themed cake and I could not be happier! The service, flavor and above all the incredible artwork on the cake were all perfect and the birthday girl was thrilled. Thanks Christine!

Kim

Al I can say is... OMG OMG OMG. Your work is absolutely stunning. I could not have asked for anything more perfect. Mint green is my absolute favorite color and you nailed it.

Your work is the PERFECT birhtday gift for someone who doesn't need anything but still wants to feel special and spoiled.

I look forward to continuing to support you and your work as long as I can afford to - soon you'll be so famous you'll be out of my league, haha... but totally serious!

Jess

We recently ordered Octonaut themed cookies for our daughters 3rd birthday as a way to delebrated while distanced. The cookies were absolutely amazing, we had all 8 characters made and every design was an exact representation of the characters, the detail was phenomenal. Not only were the the designs amazing, they were the most delicious cookies we have ever had. We've had so many positive comments about how delicious they are and the beautiful artwork & perfect details! Some of our daughter's friends are fans of the show as well & we got literal jumping up and down squealing with delight when they were received. I cannot recommend this company enough, we will be ordering cookies regularly & keeping an eye on which markets & local vendors we can buy them at.

Margie

My family and I wanted to give my sister a special treat for her 50th since we couldn't get together due to COVID restrictions. I had been following Christine's Facebook Page for a while (my friend's son is vegan and recommended the bakery), so she was the first option that came to mind! (My sister lives in Ottawa). Christine was nothing short of polite, professional and flexible... from the design of the vegan cake and cookies to timing of pickup. Since I live in the GTA my brother in Law was tasked with pick up duties. Christine reached out to offer to deliver the goodies, as she was heading to the area of Ottawa where my sister lives. The cake and cookies were delivered right at the time stated, and everyone thoroughly enjoyed the treats! My sister's milestone birthday was a memorable one thanks to Compassionate Rabbit. Thank you!!

Jennifer

Christine from Compassionate Rabbit did an absolutely outstanding job creating a masterpiece from an idea. Bronwyn has been involved in Synchro for the past 9 years and these represent all of her show suits through the years. We had decided she would make 6 of the 9 suits cause some are VERY detailed and would be VERY difficult to make. Imagine my absolute delight when I picked them up and discovered she'd been inspired by the challenge and decided to make all 9 versions. I am in awe of the level of detail! What a special contribution to Browyn's 18th birthday! The pandemic didn't stop us from marking this milestone.

Patricia

Sooooooooo in Love!!! Thank you soooo much for making my 40th birthday cookies. They were absolutely stunning, You put so much love and dedication into all my ordersand truly showed in my birthday surprise. So appreciated and loved the birthday wishes and card. Wishing so much more success with your brand and you will have my next order soon. Hugs!